My co-worker T recently got a promotion and as is the tradition in our division, she treated us, her division mates to merienda. When we have birthdays, promotions and other celebrations in our division, treats are usually for merienda instead of lunch or dinner. Don't let "merienda" deceive you though. These are really heavy merienda that we prepare for by eating very light lunches and no more dinner after.
Anyway, T had her merienda blowout last Valentine's Day. Because she had meetings throughout the day, she asked if I could help her with ordering which I gladly did. On the menu were:
Mixed Kebabs from Shawarma Center in UN Ave., Manila (P1350/kilo). This includes mixed beef, fish, lamb and chicken kebabs, Arabic bread, hummous, motabal, yogurt garlic sauce, hot sauce and vegetables. One kilo could easily feed 6 people as the bread was thick and very filling.
Spaghetti for 20 (P850), Pancit Malabon for 20 (P750), Barbecue P20 per stick and Pichi Pichi with Cheese (P220 per 40 pcs.) all from Amber's.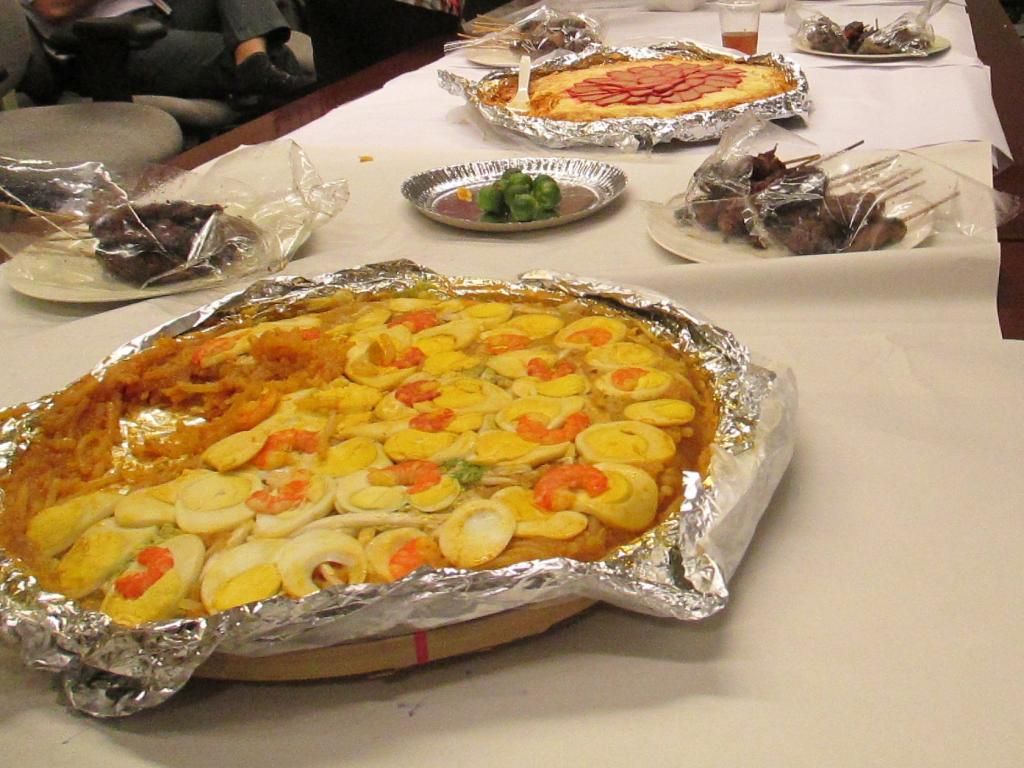 Pizza from Yellow Cab (Garden Special, Manhattan Meatlovers and Dear Darla). This was supposed to be Shakey's (my favorite Pizza) but at the last minute T said why not make it Yellow Cab this time.
I ordered the Shawarma at around 9am, while I ordered from Amber's at 10 am. I ordered the Pizza from Yellow Cab at 1:30pm. The Shawarma arrived first, before 3pm, all the way from UN Avenue. Next was Amber's at exactly 3:15 from Edsa in Mandaluyong. As it was only 15 minutes to 3:30 (merienda time), we decided to wait at the lobby for the Yellow Cab pizza since we were tired of going up and down to pick up the food. At 3:40pm we got tired of waiting and decided to go up to follow up, leaving one co-worker at the lobby in case it arrived after we left. I called up Yellow Cab's 789-9999 to follow up. I was put on hold for a long time and then informed that they will call the branch designated to deliver and call me back. I was impatient since we had told everyone to come at 3:30pm. The guests were already there. I asked which Yellow Cab branch it was (Yellow Cab, Emerald Ave. in Ortigas) and got the number to call the branch myself. The phone just rang and rang and rang. It was already 3:50. I called the call center again and was again put on hold. By that time I was getting frustrated and threatened to cancel the order. I would have too but the celebrant T said no, let me talk to them. I passed the phone on to her glad to be done with it. She got put on hold, passed around, put on hold, it was verrrry frustrating. Finally, the call center supervisor said the rider had left the branch at 3:50pm. What?! I ordered at 1:30 asking delivery at 3:30. They had a lot of time. Clearly they forgot or misplaced our order. What was infuriating were the excuses they made and the fact that they kept passing us to other people. It was their fault and it was very badly handled. There was no attempt at minimizing damage or making up to the client. They just kept on saying we will update you which will do what to the hungry guests waiting for the pizza?  The pizza finally arrived at 4:40pm but all they would give us was a 20% discount.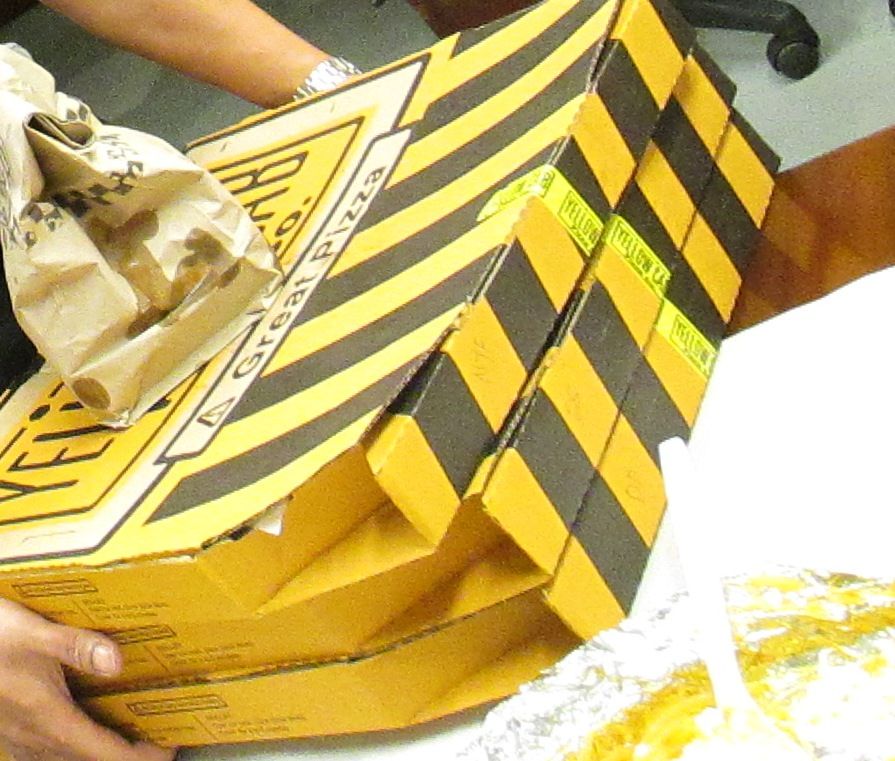 I don't know what T is going to do. She was boiling mad. She got the branch manager's name, the call center supervisor's name and the rider. For myself, I'm never ordering from Yellow Cab again. Loyal Shakey's customer forever.
It could be an isolated incident because previous experience were on time but they were from Yellow Cab, St. Francis Square. It must be the Emerald Avenue Branch that had horrible service but I also blame the call center for passing our order to Emerald Avenue when St. Francis Square was meters away from our office.
They ended up taking home the pizza because by that time, some guests had left and the others were full.